Mosaic Chairperson
Governance Sub-Committee Member
Keryn joined the Board in 2013 and was instrumental in the formation of Mosaic Support Services as a result of a merger. Keryn became Chairperson of the Mosaic Support Services Board in September 2017 and is also a member of the Mosaic's Governance Sub-Committee.
Keryn is a passionate advocate for the development and sustainability of quality disability services. She would like to see the same opportunities her niece has, a person living with a disability, be provided for all people living with a disability and their families.
Keryn currently holds the position of Executive Manager Strategy at Tasplan Superannuation Fund and has been actively driving the Strategic oversight of Mosaic over the last several years.
Mosaic Board Member
Finance, Risk and Audit Sub-Committee Member
David was instrumental in the formation of Mosaic Support Services as a result of a merger. David has been with the organisation since 2013 and has been a great advocate for transitioning Mosaic from a "good" to a "great" organisation. David is also a member of Mosaic's Finance, Risk and Audit Sub-Committee.
David brings to Mosaic Support Services a broad set of skills, experience and knowledge gained through many years as a Director of both profit and surplus for purpose organisations.
David currently holds the position of CEO of Public Trustee Tasmania. He is passionate about ensuring the rights of all Tasmanians are upheld, no matter what their circumstances.
Mosaic Board Member
Governance Sub-Committee Member
Aileen joined Mosaic as a Board Member in December 2018 and is also a member of the Mosaic's Governance Sub-Committee.
Aileen has over 20 years' experience in governance, risk and compliance management, and was a practising solicitor in Malaysia prior to relocating to Australia nearly 19 years ago.
Aileen is currently Head of Governance and Company Secretary at Tasplan Superannuation Fund and is passionate about driving good governance practices in organisations. Aileen holds a Bachelor of Laws (Hons) and is a Graduate of the Australian Institute of Company Directors and an Associate of the GRC Institute.
Mosaic Treasurer
Finance, Risk and Audit Sub-Committee Member
David joined the Board in March 2019 and is also a member of Mosaic's Finance, Risk and Audit Sub-Committee.
David has recently retired after 39 years working in senior management and leadership positions in the Tasmanian State Service. These roles were in the Tasmanian Audit Office and the Department of Premier and Cabinet.
David is a highly qualified addition to the Mosaic Board. As well as degrees in Business and Commerce, David is also a Fellow of CPA Australia, a Certified Member of the Australian Human Resources Institute, a Member of ISACA (Information Systems Audit and Controls Association) and a Graduate of the Australian Institute of Company Directors.
David is also a keen volunteer and enjoys lending a hand fundraising for community organisations in need.
Mosaic Board Member
Governance Sub-Committee Member
Kate has had a long standing relationship with Mosaic and its previous organisations having been a Board Member since 2009. During this time Kate has been a key influencer in the ongoing transformation of the organisation. Kate is also a member of the Mosaic's Governance Sub-Committee.
Kate is a lawyer with over 19 years' experience practising in the areas of Criminal Law and General Litigation. She commenced practice as a Barrister at Malthouse Chambers in Hobart in 2010 and was appointed Head of Chambers in 2014.
In addition to her work as a Barrister, Kate is a director of the Motor Accidents Insurance Board, a member of the Parole Board, Anti-Discrimination and Mental Health Tribunals, a Criminal Injuries Compensation Commissioner and a Deputy Chairperson of the Racing Appeal Board.
Mosaic Board Member
Umesh joined the Board in March 2019. Umesh brings to Mosaic Support Services a wealth of experience in communications, building and maintaining key government relationships and designing public policy. He is also a keen advocate for building and maintaining a strong organisational culture.
Umesh currently holds the position of Head of Communications at City of Hobart and has previously managed government relations for an ASX Top 30 company. He is highly qualified, with two Honours degrees from the University of Tasmania and a Masters in International Relations.
Umesh is an active Volunteer Board Member and a member of the Australian Institute of Company Directors.
Chief Executive Officer
Lynne joined Mosaic in September 2018 with a goal to transform the organisation from "Good to Great" using the Fish! Philosophy and her extensive experience in leading organisations and people and marshalling resources to gain the best outcomes.
Lynne holds a Bachelor of Commerce and is a Certified Practising Accountant, which provides a strong base for her professional guidance. Prior to Mosaic, Lynne has been a successful Chief Executive Officer of four community organisations, across two states, over an 18 year period and her professional passion is finding the ideal balance between the organisation's "Client Purpose" and effective "Business Acumen" to ensure truly sustainable futures.
Lynne is delighted to be a new Tasmanian and has wasted no time in shaping Mosaic towards its optimum potential for the clients and families we serve and the people we employ.
Chief Financial Officer
Matt oversees the financial systems, assets and facilities, and the ICT Functions for Mosaic.
Matt holds a Bachelor of Commerce, Majoring in Accounting and Finance from UTAS, and has completed his CA Program with the Institute of Chartered Accountants.
Matt joined Mosaic in June 2018 bringing with him a wealth of experience in financial matters gained both in Australia and working with Lloyds Banking Group and the Royal Bank of Scotland in the UK. He's also held positions at UTAS and the ATO, as well as working for IOOF Holdings Ltd.
Matt is leading the Mosaic Support Services financial systems into the future, by implementing strategies to streamline processes and make our organisation sustainable and financially secure. Matt works closely with the CEO, also an Accountant, and the Leadership Team to ensure operations are smooth and fiscally responsible.
General Manager – People and Culture
Jessica oversees our highly engaged human resource team who do everything from remuneration and reward, industrial relations, learning and organisational development, workplace health and safety and policy and risk.
Jessica joined Mosaic in August 2018 with a huge depth of human resources experience gained from working at MyState Bank where she moved quickly up the ranks from Manager Industrial and Employee Relations to Senior Manager Human Resources, and finally General Manager HR and Property. Her passion is creating engaged, thriving workforces that value health, well being and professional development.
Jessica is a specialist in Employment Law and has a degree in Human Resources from UTAS, her Cert IV in Workplace Health and Safety from the Skills Institute Tasmania, an Advanced Diploma of Human Resources of Human Resources from Tafe Tasmania, her Ergonomic Assessor Certificate from IPM Safety and she is a Certified alcohol and drug tester from Drug Test Tasmania.
General Manager – Client Partnerships and Operations
Michelle joined Mosaic in 2012, Michelle's first role with Mosaic was as a Receptionist. Michelle quickly progressed to become the Administration Manager in 2015, then Business Operations Manager in 2017. Michelle joined the Leadership Team in 2018. Michelle is currently undertaking studies for her Diploma in Leadership and Management.
Michelle is a strong engaging leader, who manages a proactive team covering client partnerships and administration. The Client Partnerships and Operations team oversee the client journey from intake onward for Mosaic while ensuring the smooth administrative operations at Mosaic Headquarters.
Prior to Mosaic Michelle managed a business with an annual turnover in excess of $3m. While in business Michelle had multiple nominations from industry partners for Tasmania Newsagent of the Year, was recognised by Tower Systems software provider within the top 3% of users nationally for maximising the operating and reporting systems and awarded Best Outlet for sales of the Trading Post for consecutive years.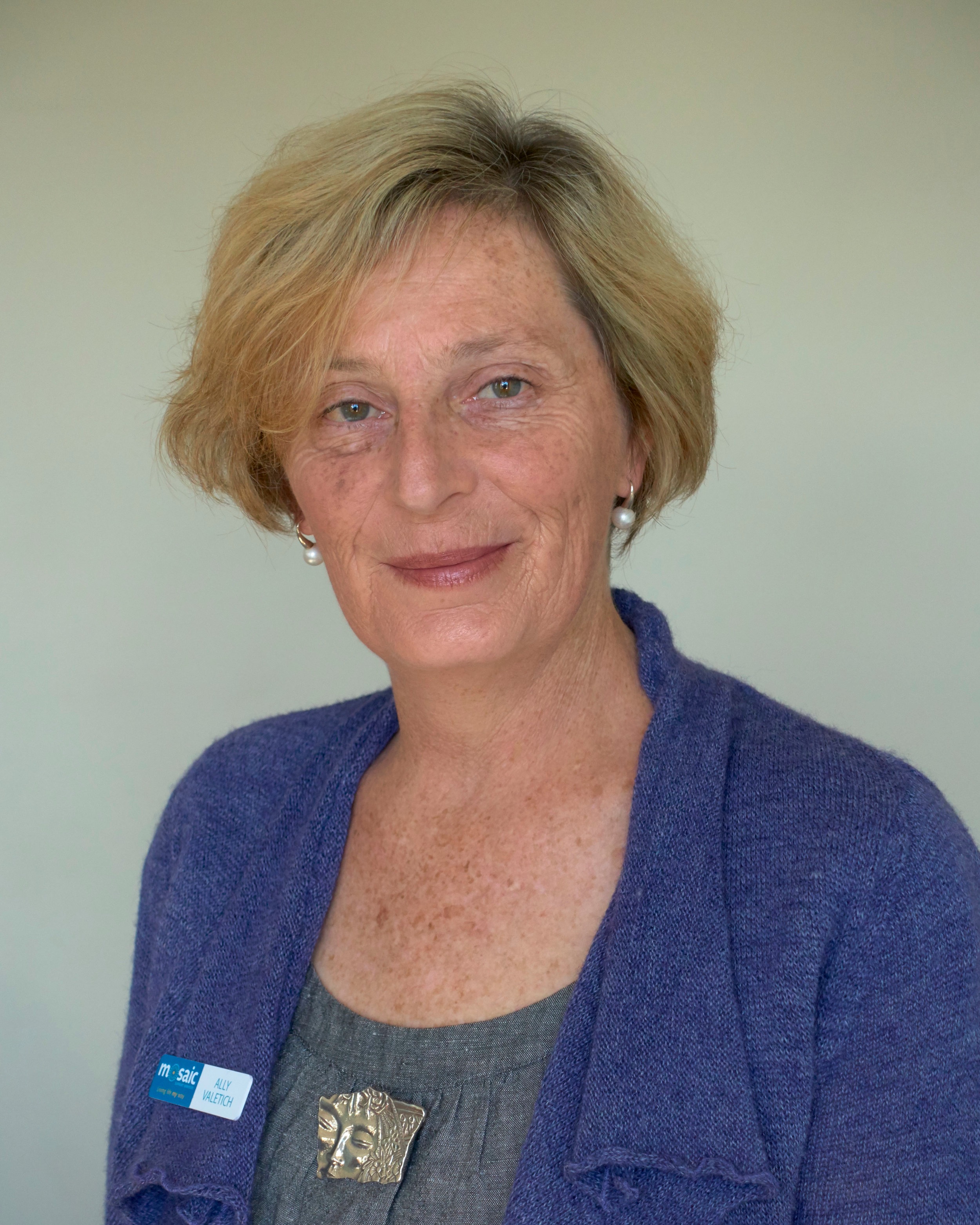 General Manager – Supported Independent Living
Ally leads our Supported Independent Living service delivery across 15 different venues.
Joining Mosaic in 2007 as a casual support worker Ally has progressed through the organisation in several key roles before moving to her current position in 2017.
Ally has extensive experience in the disability sector, starting her career in 1990 at the commencement of the Community Integration Project. Originally a Mother Craft Nurse she has a broad base experience that really connects with our families and clients. Prior to joining Mosaic Ally had a variety of management roles in 3 other key disability organisations in Tasmania.
Ally has an Associate Diploma of Welfare, as well as Level 4 Disability, and a Diploma of Disability. She has also participated in the Tasmania Community Leadership Program.
General Manager – Community Access
Kellie leads the creative, health and wellbeing programs, camp, vacation care options, social activities, skills based and individualised programs for Mosaic.
Kellie has been with Mosaic since 2003, starting her career with the organisation as a Disability Support Worker, then progressing to a Key Worker position, then on to Team Leader, before moving to her current position. In 2009 Kellie was the winner of the NDS Inaugural Alex Tubb Disability Young Worker of the Year Award.
Kellie has a Bachelor of Arts with Professional Honours from the University of Tasmania, which locked in and formalised her very extensive hands on experience working with people with disabilities.
General Manager – Respite Options
Craig leads the operations of both our children's and adult's planned and emergency respite, an increasingly growing area for Mosaic.
Craig has been with Mosaic for 8 years and is well recognised and highly regarded in the Disability & Health Services sector, often being sought out for his opinion on relevant matters as a subject matter expert.
Craig commenced his career in disability and health services over eleven years ago within the Tasmanian State Government, where he played a key role in the successful transitioning of children's respite from government managed into the not-for-profit sector. Given his success with this project, Craig was further engaged to assist with the later transition of adult's respite. Craig is a passionate leader and has experience with change management, community engagement and managing diverse stakeholder relationships.
General Manager, Marketing, Communications and Strategic Projects
Anita oversees our Marketing, Communications and Strategic Projects team and is responsible for guiding Mosaic on our strategic journey to increase stakeholder engagement and develop a strong digital framework to ensure we lead the way in how we communicate with our clients and our community.
Anita joined Mosaic in Aug 2019 and has broad experience in a wide range of project management roles across the public sector as well as marketing, event management and strategy roles within the private sector. Anita is an innovative and strategic thinker capable of maximising opportunities and resources whilst ensuring continuous improvement for our organisation.
Anita has previously been the Tasmanian representative for the National E-Standards Expert Group and has presented at many of their national and state conferences. She was also a founding member of the Phoenix Children's Services Board and currently volunteers on many local sporting and community committees.
General Manager, Quality and Growth
Adam joined Mosaic Support Services in June 2019 as our General Manager Quality and Growth. Adam's role is to ensure we consistently achieve best practice in relation to the new Quality and Safeguards Framework outlined by the NDIS Quality and Safeguards Commission. He is also responsible for overseeing several major strategic projects Mosaic is embarking on with the aim to transform from a good organisation to a great organisation in providing quality services to people living with a disability in Tasmania.
Adam comes to Mosaic with a wealth of experience under his belt, having played an integral role in the Disability Services industry for over 20 years. Most recently, Adam contributed to the successful introduction of NDIS compliant processes and procedures at a smaller disability services organisation. He brings to Mosaic knowledge and practical experience of the changing environment disability services organisations are currently experiencing. Prior to working in disability services, Adam spent many years working in children's services.
Adam has two children with disabilities and both are registered with the NDIA, he understands the requirements from the new system world from a parent and provider perspective. Adam has a strong focus on ease of access and quality services to Mosaic's clients and families now and into the future.